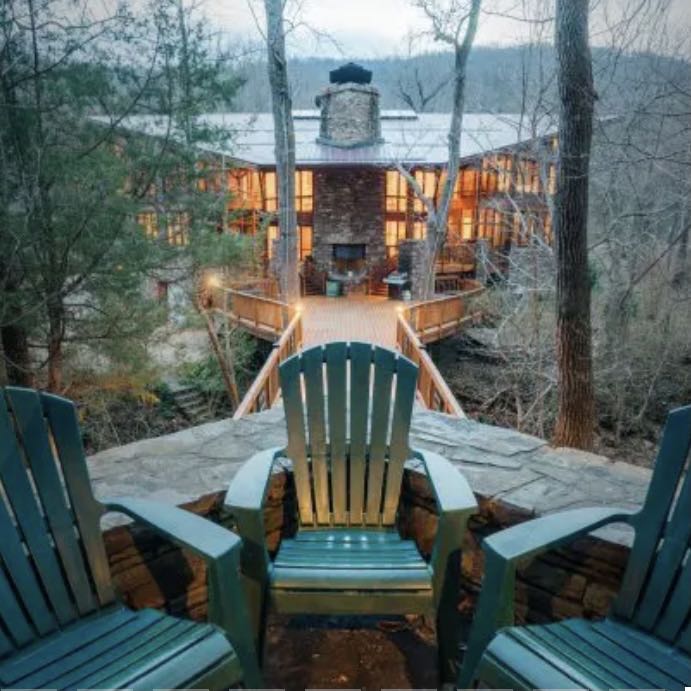 NOURISH IN NATURE

2023 OMAHA POWER YOGA RETREAT
APRIL 27th – MAY 1st
It's time for some adventuring and nurturing!  Spend 5 days and 4 nights nourishing yourself with nature, nutrition, movement and learning secluded in the stunning Ozark Mountains of Arkansas.
Enjoy reflective, silent mornings until breakfast, daily yoga and meditation, hiking, swimming holes, a river float, as well as a unique opportunity to attend Relationship School!  Don't worry, there are no tests, and you can't flunk out.  You'll learn how to recognize self-sabotage, hone communication skills and effectively handle your stressors.
Our private lodge is creekside with a gorgeous deck and footbridge spanning the creek.  A spacious lawn, stone creekside patio, and hillside pavillion with outdoor fireplaces provide plenty of areas to spend some quiet alone time.  There is even a horseshoe pit if we feel so moved!
Our Relationship School is an effective program that equips you with the mindset and skills to get out of others and back into yourself and your connection to a power greater than you!  This is not religious – it is spiritual.  The result is deeper, more loving and fulfilling relationships in every single area of your life.  Sound like something you can use?
Our retreat kitchen will be hosted on site by the Rooted Table Kitchen + Juicery* to support our nourishment and well-being.  Throughout the retreat, attendees will enjoy fresh juices, superfood smoothies, nourishing and invigorating plant-based meals, health-filled snacks and satisfying treats.
Our menu will be dairy free, egg free, and meat free.  Some nuts (almonds, walnuts and cashews) will be used in a few dishes.  There will be gluten and soy-free options available at each meal.  *do let us know if you have any food allergies
THURSDAY, APRIL 27th – MONDAY, MAY 1st

Upper Buffalo River | Ponca Wilderness Area, Arkansas

3 Private Queen Rooms:  $2345 single occupant | $1833pp double occupants

4 Loft Full Beds:  $2220 single occupant | $1770pp double occupants

All-inclusive*
*All meals, snacks, drinks (no alcohol), classes, activities, and excursions included.  Transportation to and from the retreat not included.
Check-in as early as 4:00pm on Thursday, 4/27.  There will be a Thursday evening yoga practice and dinner.
Check-out on Monday, 5/1 will be after morning meditation, yoga, and breakfast.
Daily schedule:
6:30am meditation
7:00am yoga
8:30am breakfast
9:30am relationship school
11:30am-5:00pm lunch, excursions & free time
5:00pm yoga
6:30pm dinner
Our schedule is subject to change depending on our excursion timing for the day.  Use your yogi flexibility and go with the flow!
Make your $250 non-refundable deposit
  ~ payments can be made at any time, full balance due by August 18th
  ~ 50% of retreat price refundable for cancellations up to August 29th
Private Queen Room – Single Occupant  (full payment link $2345)
Private Queen Room – Double Occupant  (full payment link $1833pp)
Loft Full Bed – Single Occupant  (full payment link $2220)
Loft Full Bed – Double Occupant  (full payment link $1770pp)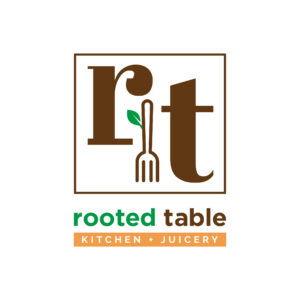 *Rooted Table is a new elevated fast, casual plant-based cafe serving nutritionally dense, nourishing food and drinks coming to the Omaha area. Rooted Table exists to serve with love, nourish with plants, and heal with deep-rooted connection one cup, bowl, and plate at a time.  Omaha Power Yoga is excited to partner with Rooted Table to nourish attendees with fresh, healthy, rooted nutrition!  Stay tuned for more information and updates on their opening.