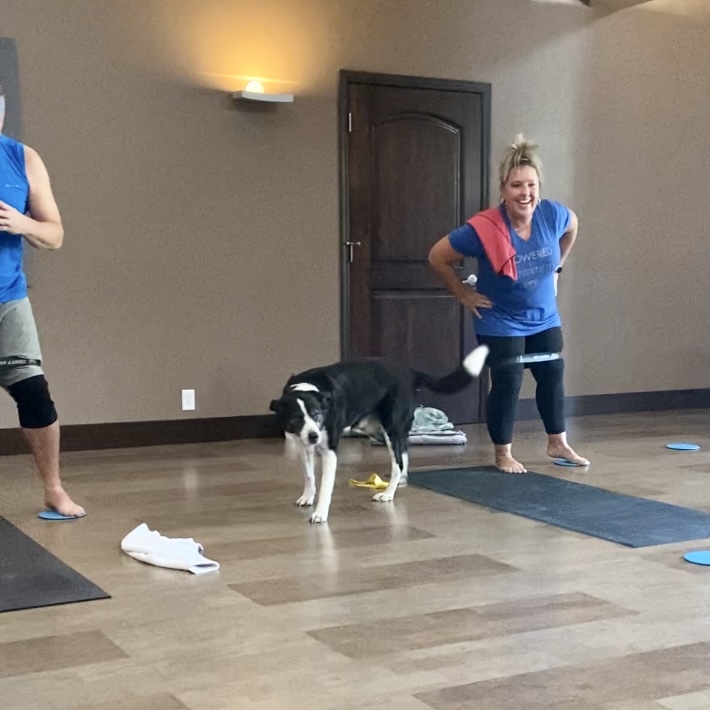 Our friend Julie shared her story with us. We think many of you will be able to relate to it. 😉  We're thrilled to have her back again. Leon is thrilled about her generosity with treats!
The very first time I practiced at OPY, I was scared to death. I also knew that how I felt was my responsibility, and that I had a choice. So I faced my fear head on, and the reward was greater than I imagined.
Under layers of fear, guilt, and sadness I found the real me! I found a deep self-worth I had lost. Then it happened… basking in the joy of feeling better, I let my practice take a back seat to my busy schedule. Fast forward to the pandemic, and my life got very challenging. All the layers piled back on.
The frantic feeling of just staying on top of my day to day kept me from prioritizing myself. I realized I needed to refocus and get back to me. So I decided to return to OPY to realign with my true self.

I'd be lying if I told you I wasn't nervous to walk through the door again. It had been SO LONG! I kept my promise to myself, though, to be brave and hold myself accountable. 
It's been 9 months since my comeback. Buried beneath the layers that had built back up, I found courage, strength, energy, happiness, and self-confidence again. It feels so good to have balance back in all areas of my life. I'm taking positive steps everyday for my well-being, and am better able to handle inevitable setbacks.
I connected with an amazing group of people at OPY who are supportive and inspire me to thrive. So when I falter – because I have – it's not hard to get back up and at it again! It's up to each of us to be serious about what we want our lives to look like going forward. I am grateful for the crew at OPY who support and encourage my trek.
Anyone can do yoga, and trust me when I say this… it will change your life! It literally eases the mind and you feel unstoppable.
Here's to returning to ourselves and our support systems,
Julie
Click here to schedule your comeback class!
New to OPY?  Start Here